Hey everyone, glad you're enjoying this list.  Just a reminder, some of these sketches can only be seen on NBC's website where I couldn't embed the link.  Just click on the name of the sketch, and you'll be able to see it.  I know this entry has a lot that are only on NBC, and I want you guys to get the full experience. Please enjoy, and let me know which sketches you hope make the list!
In just a few minutes, Cecily Strong manages to break down every story beat of a romantic comedy.  Her deadpan delivery manages to sell just how lifeless female characters can be written when poorly written. Confusing, right?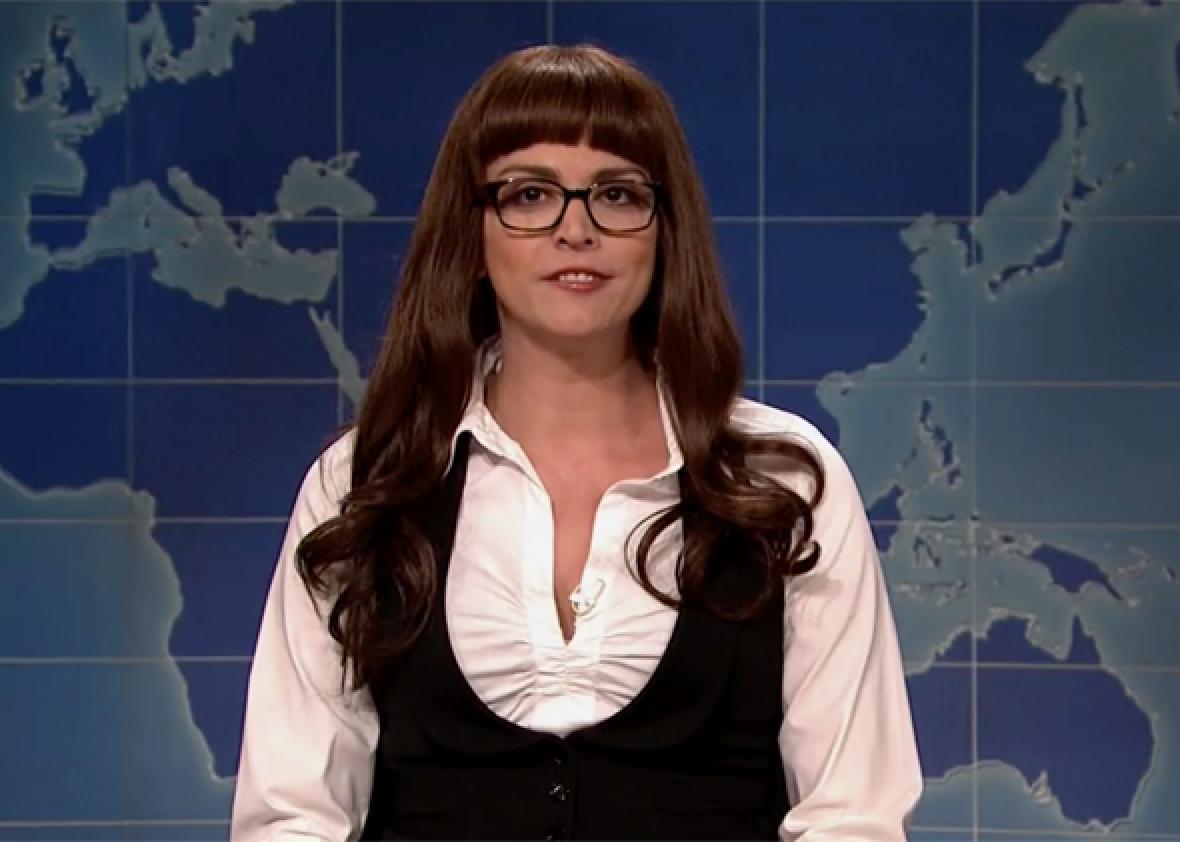 In the words of the New York Times, "You had me at Wes Anderson".
SNL has gained a ton of mileage with their parodies of The View. But for my money I preferred their parody of the CBS-knockoff, The Talk. The sketch features a ton of great impressions from the female cast.  And if you ignore the fact that Kristen Wiig plays Julie Chen because the show wouldn't have an Asian cast member for another eight years, it holds up remarkably well.
The 41st season featured one of the largest new classes in 20 years.  So what better way to introduce them than with a game show. Comparing the appearance of white-alt comedians and indie bands will always be hilarious.
This sketch works for anyone that has ever just wanted to go off on their co-workers. Each insult is so specific and so satisfying to watch.  But really, the credit has to go to Bobby Moynihan and Cecily Strong, who manage to match each other's high energy and stay in sync throughout the whole sketch.
Fred Armisen's version of the famous one-man show is a great takedown of all one-man shows.  From how bad the theater is, to all of the hack jokes about growing up, Armisen highlights how awful one-person shows can truly be.
This might be Melissa Villasenor's best work yet.  The script is so tight, and Villasenor delivers each of her punchlines perfectly, and manages to nail the clueless/awkward character that she's great at playing.
Jay Pharoah's impressions were criminally underutilized throughout his tenure on SNL. Fortunately, he managed to do this bit where he managed to land nine flawless impressions in 3 minutes.
Nasim Pedrad does an amazing job of playing the 'weird kid character'.  Shallon, her precocious kid that always questions authority is one of her weirdest.  What I like about this character is a lot of the child logic that's used. It leads to some great dialogue, and it's hard to tell where the sketch is going to go.
Yeah, I'm sure everyone's sick of David S. Pumpkins.  But come on, the original sketch is great. The idea that there's just a guy in a pumpkin suit trying to scare people with two skeletons, with no context is just amazing.  Plus, props to Tom Hanks who sells the hell out of the line "i'm David Pumpkins"
Kyle Mooney and Beck Bennett's parody of 80s sports movies about a guy in the office afraid to run is fantastic.  From the cinematography, to the music cues, to the acting; every aspect of this sketch is perfection.
I'm a sucker for child actor parodies, and Vanessa Bayer's 'Laura Parsons' may be the best one.  The sketch tells the rivalry of the top two child actors(Vanessa Bayer, Scarlett Johanssen). The exaggerated over-acting and large movements have made this sketch stay in my memory for so long.
Andy Samberg legacy will always be his pre-taped segments. But his character 'One-Take Tony' an Old-Hollywood actor that botches the most simple lines may be some of his best live character work.
A version of War Horse where instead of the horse being a puppet, it's an actual person is a great joke. The cast is firing on all cylinders, and it's a great parody of local theater.
Jay Pharoah's Will Smith impression was underrated during his run on the show.  But at the very least, we got a full sketch for the Fresh Prince of Bel Air box set.  Pharoah really manages to match Smith's charm/one liners, but puts them at the most ill-timed moments. Plus Kenan Thompson does a great job as Carlton Banks.
What I really like is how this sketch looks at NYC's changing landscape. SNL has always highlighted it's NYC location; and taking a shot at the changing culture of Brooklyn was the perfect way to do it.  Highlighting Brooklyn's transformation from rough area to trendy neighborhood is comedy gold.
Oooh boy.  The sketch of high school students presenting a performance they think is really deep is so cringeworthy, I love it.  It's basically the cast performing the top posts from r/im14andthisisdeep. Every entry in this series is flawless, but I picked the one with Reese Witherspoon as the best one.
It really is a shame that Mike O'Brien only lasted one season as a cast member, because he had such a strong tone of voice in his short tenure.  The fact this didn't make it to air and lacks audience laughter gives it more of a horror vibe than comedy. Kids is a deeply personal sketch and I'm really glad it was somehow made for SNL.
A surprisingly catchy rap song for Black History Month. While the joke could get repetitive it's the initial delivery from Jay Pharoah, Kenan Thompson and Sasheer Zamata that sells it.  Also, every time I see Bobby Moynihan try to get involved, I laugh.
A look at the lives of Times Square characters, with Bruno Mars as a patriotic mouse.  The sketch manages to have a real heart and satisfying emotional payoff at the end. Sad Mouse feels less like a comedy sketch, and more like a short film, and I really appreciate it for existing.